Cisco UCS servers simplify your data center architecture; reduce the number of devices to purchase, deploy, and maintain; and improve speed and agility.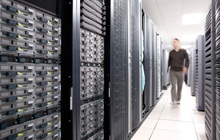 Information technology organizations are in the midst of a major transition. As they move from being cost centers to integrated, strategic parts of the business, IT administrators, managers, and executives are keenly aware of the challenges they face.
Why Wait for the Future?
The next evolution in IT is happening now, and Cisco's Unified Computing System (UCS) is ready to power your data center in the Internet of Everything. Cisco UCS is a groundbreaking approach to computing, designed for IT innovation and business acceleration. The benefits are happening now.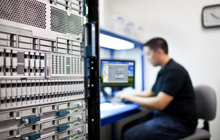 Let Applications Thrive
With Cisco UCS, you can tune your environment to support the unique needs of each application while powering all your server workloads on a centrally managed, highly scalable system.
Innovate and Accelerate
Cisco UCS Integrated Infrastructure Solutions speed up IT operations today and create the modern technology foundation you need for initiatives like private cloud, big data, and desktop virtualization. Cisco UCS Director provides centralized automation of your physical and virtual resources, helping you take full advantage of our open ecosystem approach.
Do More with Less
With Cisco UCS Manager and Cisco SingleConnect Technology, hardware is automatically configured by application-centric policies—ushering in a new era of speed, consistency, and simplicity for data center operations. UCS brings the flexibility of virtualized systems to the physical world in a way no other server architecture can, lowering costs and improving your ROI.
PTS specializes in combining UCS with SimpliVity to create a holistic
hyperconverged platform. If combined with CloudCover, PTS can design
and deploy a client-premise or colo-based solution in under 16 weeks!
To learn more about PTS solutions for enterprise networks, contact us or visit:
Back to Cisco Manufacturer Page